Property Details
309 S. Main Street Society Hill, SC 29593
Offered at $75,000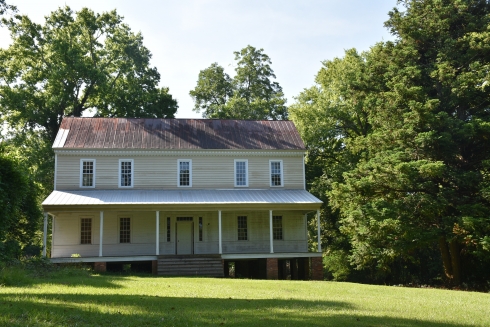 Listing Agent: Jim Lyles
Phone: 843-662-5263
Tax Map Number: 154-04-01-019
Status: Active for Sale
Type: Single Family Home

Year Built: 1832

Bedrooms: 3

Bathrooms: 1

Sq. Ft: 2800

Land Size: 6.4 Acres

The Historic Caleb Coker House
The Caleb Coker house, built ca. 1832, is a wonderful un-restored 1832 house in the heart of the Pee Dee region of South Carolina. It was the home of Caleb Coker (1802~1869) and the birthplace of his son, Maj. James Lide Coker (1837~1918), who was a Confederate officer, industrialist, philanthropist, and founder of Coker College. Caleb Coker was a merchant, a director of the Cheraw & Darlington RR, librarian of the Society Hill Library Society, and a charter member of the Darlington Agricultural Society.
This house is being sold for the purposes of attracting a responsible owner who will renovate and create a home or business. It can be lived in, leased out, or invested in and sold for a profit. The Palmetto Trust for Historic Preservation is the owner and is South Carolina's statewide non profit preservation organization whose mission is to preserve, protect, and advocate for the historic structures of South Carolina. Every year South Carolina loses great homes like this to neglect. Please share this opportunity to anyone you know who might be interested.
The Caleb Coker House and the Coker Family:
The Caleb Coker house, located at 309 South Main Street in Society Hill, South Carolina, is one of the region's most distinctive and historic late Federal houses. It was built in 1832 by Caleb Coker, Jr., an industrious young merchant and his wife Hannah Lide Coker. In addition to the house's wonderful history, it is one of the region's most distinctive "I" houses from an architectural standpoint. It has a typical center hall plan common to the Pee Dee region, but has some interesting and unusual details. The chimneys were not built on the ends of the house as is common in South Carolina, but were built between the front and rear rooms, a type more common in cooler climates such as Virginia and northward. The raking cornices on the gables taper as they rise and feature scalloped ends, also a feature more common to the north.

The cornice is decorated with an unusual applied diamond and saw tooth pattern, which is unique in the Pee Dee region. The treatment of the cornices is similar to that of the 1822 library building, leading one to suspect the house may have been built by the same builder, or influenced by its design. The library also boasts boxed cornices, and tapered raking cornices with scalloped ends.

The center hall is distinctive, in that it rises the full two story height of the house in the rear, where the split staircase crosses the space via a landing. The sill on which the rear rafters bear is a single timber 12 inches square and approximately fifty feet long, hewn from a single piece of wood.
The Coker Family

Both Caleb and Hannah were descended from Revolutionary War patriots who had settled along the Great Pee Dee River near present day Mechanicsville. Both the Lide and Coker families were pre-Revolutionary members of Cashaway Baptist Church, an offshoot of Welsh Neck Baptist Church in Society Hill.
Hannah's paternal grandfather was Major Robert Lide, who came to South Carolina with two brothers from Pennsylvania in the 1740's. Hannah's paternal grandmother was Sarah Kolb, daughter of Johannes Kolb. A man of education and ability, Robert Lide took up extensive lands along the Pee Dee River at Mechanicsville, and became a successful planter, distinguishing himself during the Revolution under General Francis Marion, leaving the service a Major. His son James, Hannah's father, was also a successful planter, who gradually moved the family residence from Mechanicsville to Springville, a retreat for Pee Dee River planters who wished to escape the mosquitoes and malaria of their bottomland plantations during the summer months. Hannah was raised in Springville, and completed her education at the Misses Ramsey's school for young ladies in Charleston.
Caleb's grandfather, Thomas Coker, Sr., lived before the Revolution near the Lides along the same stretch of the Great Pee Dee River, and served under Francis Marion during the Revolution as Lieutenant, for which he received as compensation a tract of one thousand acres in what was to become the New Providence community, some 15 miles west of Society Hill.
Caleb Coker, Jr. was born September 14, 1802, to Caleb Coker, Sr. (son of Lieutenant Thomas Coker) and Ann E. McLendon. Caleb's education was gained chiefly from his mother and his own efforts.
Caleb settled in Society Hill in the 1820's as a clerk in the store of a local merchant, Alexander Sparks. He quickly learned the mercantile trade and assumed the duties of bookkeeper within two or three years. He was soon given the job of office man and top clerk's pay of $500 annually. By 1828 he had saved at least $1400, and teamed up with J. Eli Gregg to open a new store, Coker and Gregg. They bought $2800 worth of goods and set up in a vacant building across the road from Mr. Sparks' store.
On October 14, 1830, Caleb married Hannah at her Springville home, and the two began housekeeping in Society Hill in a small three room house behind the store. Caleb traveled periodically to New York to buy goods for the store. By 1832 he could afford to build a larger, more comfortable house. This was set well back from the road behind the store, and featured a large central hall with four rooms downstairs and two up.
In 1835, J. Eli Gregg decided to leave Society Hill to establish a store at Mars Bluff, where he owned property. Caleb bought his share of the business for $22,500, a large return on the initial investment of $2800 seven years earlier. In addition to his store, Caleb had invested in a steamboat, the Atalaya, which carried cotton and produce downriver to Georgetown and brought finished goods back upriver. This boat sank fully loaded on a trip upriver, resulting in a lengthy suit. Eventually cleared of negligence, it appears Caleb decided afterwards that pole boats were more practical on the Great Pee Dee River.
Due to persistent illnesses including malaria among the family and slaves, Caleb soon built a summer home in pinewoods near a clear spring in neighboring Chesterfield County. He joined a number of Society Hill planters with summer homes in the pine barrens, including Alexander Sparks at Dukeville, Dr. J. K. McIver nearby, and Colonel Nicholas Williams at Oakey Hollow, two miles away. The summer homes of Judge Josiah Evans and Governor Allston of Georgetown's Chicora Wood Plantation were at Steerpen Springs, a few miles away. It appears that Major James Lide Coker and Charles Westfield Coker were born in the Society Hill house, while William Caleb Coker was born at the summerhouse.
As a businessman, Caleb was occasionally critical of the cotton economy, whereby the South produced cotton for northern and British mills, in exchange for manufactured goods that were imported at great cost. He wrote Hannah in 1836 on a buying trip North: "The Steam Boats and Railroads are crowded to overflowing and I expect to find New York fill'd up with Southern and Western merch'ts. In fact it appears to me that the whole South and West have turned fools, or they would import goods to their Southern Towns and not be so dependent on the North for their supplies. …If I with my present experience was only 20 years old and as rich as the Rothchilds and something more of a book man, perhaps I would make an effort. But these ifs make all this foolishness. I only set down to let you know that I was here and well and that in the midst of all those crowds I remember my Hannah and Children, and shall waste no time in getting my business done and returning to them, where if I enjoy any happiness at all, it is with them. Kiss the dear little ones for me."
In 1836 Caleb became postmaster of Society Hill, and also served as Society Hill librarian. The Society Hill Library was organized December 7, 1822, and an initial pledge of $240 was used to purchase books in Philadelphia. By 1861 the collection had grown to over 2000 volumes. This was among the oldest public lending libraries in South Carolina outside of Charleston and Georgetown.
In an age when Southern merchants typically charged 10 to 20 per cent interest on credit extended to cotton planters, Caleb's standard rate was 7 per cent to all customers, throughout all the years he maintained the store. Despite this, his store became increasingly profitable, so much that he began investing in lands and slaves in 1838.
It was common for professionals and businessmen in the South to eventually become involved in growing cotton, as the planters' life was considered the finest. Despite investing in a plantation, Caleb always considered the store his most valuable asset. Caleb knew that cotton based agriculture in the long run meant little more than depleted soils, relatively small profit margins, high interest debt, and increasingly unprofitable slavery. He was a strong advocate of commercial investments. In addition to maintaining the store, he invested in the Darlington and Cheraw Railroad, as well as the Cheraw Bank, which was the largest bank in South Carolina outside of Charleston before the War Between the States, and the last bank to honor Confederate currency.
In the early 1840's Caleb began work on a larger home a few miles south of the village, known as Camp Marion from the name of an adjoining field where the annual militia encampment was held. The property included significant acreage bought from the estate of Society Hill's Governor David Rogerson Williams, who had died in 1830.
The family moved into Camp Marion in the spring of 1844, and the old home place was occupied by various members of the family in the following years. Caleb and Hannah eventually had ten children: Jane Lide was born in 1831 in the three room house in which they began housekeeping, then Anna Maria in 1833. James Lide was born in the 1832 house in 1837, William Caleb in 1839, Charles Westfield in 1841, Frances Elizabeth Pugh in 1844, Mary Lide in 1847, Edward Thomas in 1850, Emma Sarah in 1852, and Florence in 1854.
James attended the Arsenal at Columbia in 1853, before going to the Citadel in Charleston, both of which made up the South Carolina Military Academy. In a development that would have profound implications for James as well as the region, he left the Citadel his senior year after a disagreement with an instructor.
When James returned home from the Citadel, Caleb proposed he assume management of the Hart Plantation in Hartsville. Caleb had recently bought the plantation house Captain Thomas Edward Hart had built in 1820 on his 8000 acre plantation along Black Creek. He added to these holdings by buying John Lide Hart's adjoining plantation, carriage factory, sawmill and store after the latter's business failure in 1855.
James proposed he spend a year at Harvard University first, taking such courses as might prove beneficial in an agricultural career. Fortunately for him, the family, and the region at large, his parents agreed. While at Harvard James had the privilege of studying closely with Louis Agassiz, one of the world's foremost naturalists, and Asa Gray, an equally
prominent botanist. From these he learned of the scientific method, and of the newly emerging understanding of heredity and genetics. He was exposed to the theories of Darwin, newly published in his Origin of Species. He carried these lessons home to Hartsville, where he began applying them to his agricultural pursuits. Although his work was interrupted by the War Between the States, it would be resurrected forty years later as his son began breeding pedigreed seed for agriculture.
According to the 1860 census, Caleb was one of 16 men in Darlington County owning more that 100 slaves, with 113. "In 1859 he harvested 146 wagon loads and 42 ox loads of corn, and on January 7 of that year he owned 9 mules, 4 horses, 3 mares, 27 head of dry cattle, 7 milk cows, 7 calves, 2 oxen, 11 sows, 72 shoats and pigs, 10 head of sheep and uncounted poultry, and in the same year he slaughtered 9655 pounds of hog meat." (Simpson, The Cokers of Carolina) In the 1850's he averaged 100 bales of cotton annually. Although a supporter of the Cooperation party, a pro-Union organization, once secession came, Caleb supported the War effort. He was one of the few Southern merchants to pay his northern creditors in full before communications were cut off by war.

Caleb and Hannah had three sons who fought for South Carolina during the War Between the States: William served in a local infantry that was called up by the Governor on April 13, the day after the firing upon Fort Sumter, and he left for Charleston April 15; James was captain of an infantry company he had organized in 1859, which was called up as Company G, 9th Regiment, South Carolina Volunteers; and Charles, who belonged to the cadet corps at South Carolina College. He and his fellow cadets had made their way to Charleston as early as April 13, 1861.
James and William were both present at First Manassas, and James' company was part of Johnston's rear guard during the Peninsula Campaign. In 1862 William became first lieutenant in a company he had organized at home from a core of veterans and new recruits, one of whom was his younger brother Charles, who refused to remain longer at college. This company was involved in the attack on Malvern Hill on July 1.
William's company attacked in the twilight; Charles, who was ordered to remain with the ammunition in the rear, picked up a rifle and charged, too. He was immediately shot down. After the battle, William, who had seen him fall, searched for his body through the night, finding him in the morning rain. Wounded himself, he carried Charles' body from the field, fashioned a crude coffin, and buried him, before sending home the news. His brother-in-law Colonel Berryman Edwards went to Virginia the following winter by horse and wagon and brought the body home for burial at Welsh Neck Baptist Church in Society Hill.
William and James saw further action at Second Manassas, Maryland Heights, Harper's Ferry, and Antietam where William was wounded a second time. In the spring of 1863 William was present at Chancellorsville and wounded a third time at Gettysburg, where he was captured as he was being carried to the rear on a stretcher. Imprisoned first at Johnson's Island in Lake Erie, he was later sent to Point Lookout and to Port Delaware. He wrote William Bryce & Co. of New York who sent him $50 which he used to purchase blankets and clothing. Caleb had traded with them for many years, and theirs was one of the accounts he had settled at the war's beginning.
In October of 1863 James was wounded at Lookout Mountain, his right hip and thigh shattered by a minie ball. The surgeons delayed operating for several days expecting the wound to be mortal, but eventually removed the many pieces of broken bone and bound him in splints from foot to armpit.
When word reached Society Hill, Hannah packed her trunk and took the train to Chickamauga station, accompanied by her neighbor, Dr. Peter Griffin. From the station they took an ambulance to the cottage in which James had been left to die, where she found him "…lying on some dirty ragged quilts, which partially covered a mattress of bagging, stuffed with hay, on a rough bedstead of pine boards improvised by the surgeons, and the best they could do under the circumstances."
Dr. Griffin remained a week, helping Hannah nurse James back to life. Hannah remained behind after he departed, and after the battle of Missionary Ridge she was actually left behind enemy lines with her son. Local residents refused to give her any assistance, from fear of Federal retribution. She walked to Chattanooga to seek a Federal surgeon's assistance, and her perseverance likely saved his life. She remained with her son for six months until he was well enough to be paroled and make the journey home.
They traveled by way of Nashville and Louisville, to Parkersville, West Virginia, to Fort McHenry near Baltimore, to Fort Monroe near Richmond, and on home. From Baltimore to Richmond she met a Miss Gunby, who was banished South due to her Confederate sympathies, and who had gathered information of import to the Confederate Army, which she delivered to President Davis upon her arrival. She asked Hannah to accompany her to the President's Mansion, where the President received her warmly and expressed his wishes for the speedy recovery of her son. They finally reached Camp Marion at eleven o'clock, Tuesday July 21st, where they found all the family gathered to welcome them. Hannah later published an account of her experiences as A Story of the Late War.
By March of 1865 the war was effectively over. Company E was entrenched around Richmond, its men without adequate clothing and starving. James packed a crate of corn meal and molasses and set out for Richmond. While in Columbia, he heard of Sherman's impending entry into South Carolina. It had been a very wet winter and spring, and the state's swamps and rivers were flooded. James guessed correctly the Union armies would head northeast along the sand hills through or near Hartsville, Society Hill, and Cheraw. He sent word home to scatter the cotton through the woods to prevent its burning, and to hide the horses. Caleb, however, heard reports that hiding property in Georgia only angered the Federals, inviting greater destruction, so the cotton was left baled and in plain sight.
After delivering his supplies to Richmond, James returned as far as Concord, North Carolina, only to find Sherman's forces between him and home. He made his way as best he could, to find the Hartsville farm in ruin. Virtually everything that could not be carried away by United States soldiers had been destroyed or burned, including all livestock, foodstuffs, clothing, and even the portraits on the walls of the house. James found much the same had occurred in Society Hill.
There Federal soldiers ransacked most of the houses, although none were burned. Residents of the state's valuable coastal plantations had feared Sherman would come their way, and crates of furnishings and valuables had been sent inland for safekeeping. Those kept at the Coker store were all carried away.
Shortly after the war's end William was released from prison; he made it as far as North Carolina before illness forced him to seek refuge in a private home before he was well enough to travel again. W. C. Coker, son of Dr. Furman and Jane Lide Wilson, recalled years later:
"One night after we had gone to bed – I remember it was raining – we heard a knock at the front door. Those times we didn't like to open the door at night, but finally my father took a lamp and went to the door. I trailed along behind him. He opened the door a little and the light shone out.
The first thing I saw was two trouser legs. They were ragged and frayed at the bottom, and the water dripped from the frayed ends to the porch. It was Uncle Willie, come home."
The post war years were difficult. Radical Republicans assumed control of the government, with the backing of Federal troops. Outlawry and violence became the norm. On July 17, 1869, Caleb died after a short illness. William, who was practicing law in Darlington, returned to Camp Marion to live with his wife Mary McIver of Springville. He soon joined Caleb's brother Lewis as a partner in the store.
Hannah remained at Camp Marion until her oldest son, Edward, married, then returned to the old home in the village she and Caleb built in 1832. A few years later she built the cottage on Main Street where she lived with her unmarried daughter, Mary Lide (Manie) until her death in 1900.
The ten-year tragedy of Reconstruction ended in South Carolina in 1876. Benjamin Franklin Whittemore was the most notorious Carpetbagger to settle in Darlington at the war's end. A native of Massachusetts and a minister of the Methodist Episcopal Church, Whittemore had served as chaplain for the 53rd Regiment, Massachusetts Volunteers, and the 30th Regiment, Veteran Volunteers. He founded a newspaper, the New Era, and served as a delegate to the state Constitutional Convention of 1867. He was elected as a Republican to the Fortieth and Forty-first Congresses where he served until his resignation on February 24, 1870, due to the pending investigation into his conduct regarding selling appointments to the US Military and Naval Academies. Despite his censure by Congress, he was immediately reelected on June 18, 1870, but the House refused to allow him to take his seat.
In 1876 William Caleb Coker was the Democratic nominee for Darlington County State Senator, but was defeated by Whittemore. Although the Radical Republicans prevailed in Darlington County in 1876, Hampton ultimately prevailed as governor, and occupying Federal troops were withdrawn from the state. Although Whittemore won the election, he saw the tide had turned, and quickly returned to his native Massachusetts, where he died in 1894. William assumed his seat in Columbia.
William withdrew from politics after 1886, when he was seriously considered for governor. A wave of resentment against the old planter class was building among the state's impoverished farmers, leading to the rise of "Pitchfork" Ben Tillman, who offered his political support to William with certain conditions, which Coker refused. The governorship went to Richardson, and to Tillman in 1890.
While Tillman's farm program included many needed reforms, it became increasingly consumed by personal, racial and political issues. The state's history may well have been very different had William accepted Tillman's offer of support and been elected governor. The remainder of his life was committed to the Darlington Manufacturing Company and securing the solvency of the Society Hill store, now W. C. Coker and Son. He died in 1907, and is buried at Welsh Neck Baptist Church in Society Hill.
In 1881 James became the first president and largest stockholder in a bank established in Darlington, and in 1883 he began the Darlington Manufacturing Company, a cotton mill. His Hartsville store became such an important trading center that a railroad was soon needed between Hartsville and Darlington to handle the volume of manufactured goods sold and cotton traded there. Officials in Darlington objected, not wanting to relinquish their control over the region's trade, and perhaps in part out of a dispute with the Major over taxes levied on his mill property. After several refusals from the Atlantic Coast Line, the Major built the rail line himself, inaugurating the Hartsville Railroad in 1889. In 1900 a cotton oil mill was built in Hartsville.
The Major had an abiding interest in education. In 1894 he provided the land and the bulk of the buildings for the Welsh Neck High School, sponsored by the Welsh Neck Baptist Association. He himself, or some member of the Coker family, provided the annual deficit of several thousand dollars. In 1908 the state began supporting public high schools. Rather than simply close the Welsh Neck High School, its supporters decided to establish a college for young women. Over the Major's objections the new college was named Coker College, and began classes with the 1909-1910 academic year.
Major Coker and Bright Williamson of Darlington were largely responsible for the establishment of the Pee Dee Historical Society in 1909, organized to preserve the history of the Pee Dee region. They published over a dozen valuable works of local history. Throughout his life he called upon the lessons of the fields of rational science to which he had been exposed at Harvard, and continually sought to reward and encourage achievement. He maintained a strong sense of community responsibility until his death in 1918.
Dr. E. T. Barrentine bought the old house in Society Hill in the late 19th century. He had bought a practice and office in Beaufort, SC, but they were destroyed by one of the great hurricanes of 1893 before he settled there. He relocated to Society Hill to fill a void, and practiced there until his death at the early age of 39. His widow resided there until her death in the early 1960s.